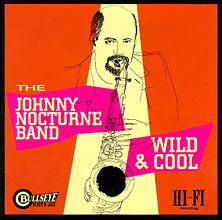 The past decade has seen the emergence of a number of young jump-swing groups. Few have come close to measuring up to the standard of The Johnny Nocturne Band. The release of the band's first album, Wailin' Daddy (Rounder / Bullseye 1992) solidified it's position as the West Coast's jumpin' & jivin' "little big band." Tenor Sax man John Firmin, and his finely honed, nine-piece jump, blues and swing group, ...propel you into the inner-beating sanctums of some seriously ferocious swing, Theirs is sophisticated roots music which perpetuates a sound that has been lost in the shuffle of "progress." The second release, Shake 'Em Up (Rounder / Bullseye 1994) secured this reputation. The Johnny Nocturne Band recordings run the gamut from whiskey-drenched rave-tips and brass), mambos to somber after-midnight ballads, and are letter perfect in form. The third album Wild & Cool (Rounder / Bullseye 1998) was on the Gavin jazz charts for over ten weeks and was awarded the prestigious Pres de Deutschen Schallparten Kritik award (the German Critics Award) in September of 1998,

John Firmin was surrounded by jazz music from the beginning while growing up the son of a tenor player in Anchorage, Alaska, and got his earliest experiences performing tenor sax in soul bands and small combos, backing up "exotic" dancers. He learned tunes by Stanley Turrentine, King Curtis, Hank Crawford and Fathead Newman, and, jumping ahead twenty-five years, he built an eight-piece band to play many of these same arrangements -- using most often the lineup of four horns and four rhythm players. In 1975, Firmin was asked to join the legendary David Bromberg band which led him to relocate to San Francisco. Eventually Firmin's desire to be more than a sideman, to be a band leader, led him to create a group that crosses the juncture between jazz and R&B -- the Johnny Nocturne Band.

Wailin' & honkin' that harkens back to the 40's & -50's jump blues & swing era, The Johnny Nocturne band is equally adept at raw rock & roll, moody film noir-ish instrumentals and hopping bop. The Johnny Nocturne Band is comprised of some of the best musicians on the scene today and is acclaimed as one of the hottest live acts around. The Johnny Nocturne Band has received much critical and public acclaim while performing at festivals throughout Europe and North America.